On September 16th and 17th, MUR put on our most successful spay and neuter clinic to date! This clinic was held in Easterville/Chemawawin Cree Nation, and our amazing vet Dr. Keri and her technicians from Hudson Reykdal Veterinary Services spayed and neutered 50 dogs. We were also able to bring in 60 surrendered and stray dogs from the community, along with one cat and one rabbit! This has been the most we have ever been able to remove from a community at one time. This couldn't have been done without the help of quite a few other rescues, including Paws for Love Dog Rescue Thunder Bay Ontario, Northern Lights Dog Rescue Thunder Bay Northern Critters In Need, Manitoba Mutts Dog Rescue Inc., Spirit of Hope Rescue, Hull's Haven Border Collie Rescue, Jenn's Furry Friends Rescue Inc, Rescue Siamese and Popcorn And Binkies Rescue Haven. We had quite a few transport volunteers who made the 10-hour round-trip drive from Winnipeg to transport these 62 animals to their new lives. One transport volunteer, Dave from K9 Advocates Manitoba, even traveled all night and day to get many of them to Thunder Bay, Ontario.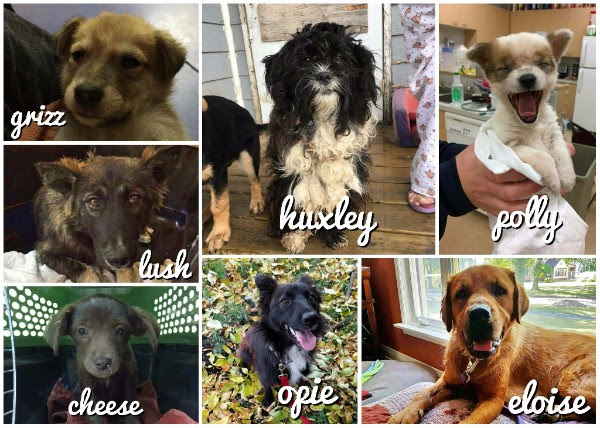 Seven dogs came into our care during Project Aurora, including Polly, Opie, Lush, Grizz, Huxley, Cheese, and Eloise.
Thank you to our corporate sponsors Sunova Credit Union and Wooftopia Dog Training & Recreation Centre, and to all our supporters who donated towards this initiative. MUR was also lucky enough to have vehicles donated from Carlson Truck Outfitters and Crown Honda and U-Haul Moving & Storage at Regent Ave.
Our team worked flawlessly putting on Project Aurora, and things couldn't have gone better! Although we work 15-hour days during these clinics, everyone still managed to enjoy themselves in the process. We love what we do for these dogs, no matter how tired we get!
We would like to send a special thank you to the Chief and community for having us, and for expressing interest in our spay/neuter initiatives. Our contacts were so welcoming and so very helpful, we couldn't have asked for a better setup. We look forward to working with the community in the near future and we know that this is just the beginning of a long and healthy relationship between Manitoba Underdogs Rescue and Easterville/Chemawawin Cree Nation.