On June 23rd, our team of 13 volunteers headed out to Brokenhead First Nation with Dr. Keri Hudson Reykdal and her veterinary team to vaccinate and fix a total of 30 dogs in one very successful day!
"I am the Fix It! Manitoba Program Coordinator. I worked with the Animal Control Officer (ACO) to organize the clinic, and was the one in contact with the community members who wanted to get their animals fixed. I love working with the First Nations communities. You can see the change first hand, and Brokenhead First Nation is a great example of this. They have a very committed ACO, and the community has been amazing helping decrease the unwanted and stray dog population (through prevention of unwanted litters). The change from even just a year ago is outstanding. There are very few stray dogs, and you almost never see any dogs running loose anymore. Owned dogs are mostly tied up when outside, and they all have dog houses. Brokenhead is a great example of a community that came together to make change for the better." – Desiree K., Fix It! Manitoba Program Coordinator and MUR Trainer
"Brokenhead was my first spay & neuter clinic. I was excited to be a part of something so worthwhile. The entire clinic ran very smoothly and it was great to know these dogs wouldn't be producing anymore unwanted litters." – Judi H., clinic volunteer
In addition to vaccinating and fixing dogs, the team delivered dog food to the community and brought 6 dogs to Winnipeg to give them a new start in life. 3 of them – Beemer and two puppies – went to other rescues (D'arcy's Arc and CAARE), and 3 came into the care of Manitoba Underdogs Rescue – Chile, Maple, and Sugar.
"At the start of the day there was word of a dog who was going to be killed if he was not taken. The owner reported he was too aggressive to keep around. I went with MUR's dog trainer, Desiree, to meet the dog and so she could do an asssessment. When we met Beemer, we realized his aggression wasn't as bad as was reported. We went back a little later in the day to get him, and after some networking found a rescue to take him (D'arcy's Arc). We pulled countless ticks off of him while he stood calmly. Later, I got to spend some time with him one-on-one while on a walk. I'm very happy that he is now able to get a shot at a furever family." – Sarah S., clinic volunteer
"The two puppies came home with me, and I fostered them for two days before they were taken into care by CAARE rescue. The puppies wiggled their way into my heart, and I was becoming aware of their personalities and quirks when they moved on. It's always hard to say goodbye, but I know they will have great lives!" – Krista F., clinic volunteer
"Chile, an owner surrender that we brought in, is just the sweetest girl. She is emaciated and was previously hit by a car so she has some trouble using her back hind leg. She is going to make an amazing family dog." – Desiree K., Fix It! Manitoba Program Coordinator and MUR Trainer
"Maple and her baby, Sugar, were surrendered to the rescue by a family in nearby Sagkeeng First Nation. Both were scared, skinny, and covered in ticks. Unfortunately, Maple tested positive for heartworm and has started the long treatment process to get her well. Sugar also has some health issues – she has BB pellets in her hind leg and desperately needs to put on some weight. They are both in loving foster homes and on their way to recovery. Once Maple came out of her shell, she turned out to be a very affectionate, sweet girl. She is my shadow at home and is pretty much always up for some snuggles. I'm so glad this sweet girl is getting another chance at life thanks to Manitoba Underdogs Rescue." – Mychal N., Maple's foster
Clinics like these are an important part of rescue – they prevent unwanted puppies from being born into communities without all the necessary resources to care for them. If you're interested in donating towards the expenses of this and future clinics, or would like to help with the vet bills for our 3 new Underdogs, please see the "Donate" section of the website (under the "Help" tab).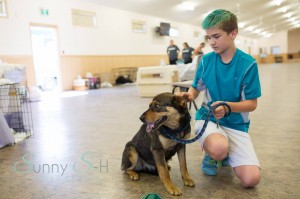 Maple, with Eric S., clinic volunteer
Sugar, with Judi H., clinic volunteer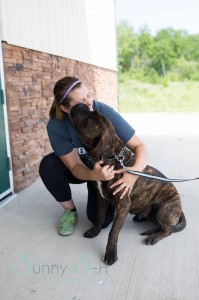 Bella, momma to the Pattern Pups (recent Underdogs), with Desiree K., Fix It! Manitoba Program Coordinator and MUR Trainer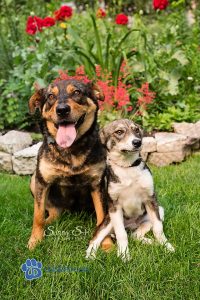 Maple & Sugar, two of the newest Underdogs