EBB & FLOW FIRST NATION
MAY 6-7, 2017
Sponsored by:
To Be Announced
Earthdog Terrier Rescue of Manitoba, Manitoba Underdogs Rescue and The Ark Project will be holding a two-day mobile spay/neuter clinic with Dr. Keri Hudson Reykdal Veterinary Services in Ebb & Flow First Nation on May 6 and 7, 2017.
Our two-day clinic will cost approximately $12,000 and will offer spay/neuter for up to 50 dogs, as well as other veterinary care that dogs in the community may require (such as vaccines, medications, etc). Fixing these dogs will prevent a minimum of 1,500 puppies from being born in the next 12 months. This will reduce the number of roaming and stray dogs, including dogs who form packs and pose a danger to people in the community, especially children, as well as other animals.
Part of the mandates for these organizations are to help control the animal population in a humane, animal-friendly manner by:
Supporting and hosting information sessions and events to create awareness about the benefits of controlling the animal population of Manitoba;
Running spay and neuter clinics in high risk Manitoba communities and providing subsidized services for low income households;
Partnering with provincial initiatives that aim to address pet overpopulation.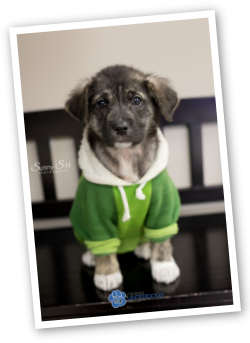 DEMI
This clinic has been named after Demi, a puppy who was found in Ebb & Flow First Nation, December 2016, during a community outreach trip with the Earthdog and Underdogs rescues. Volunteers believed Demi was deceased, with no recognizable pulse, and she was absolutely frozen solid. Volunteers worked on her for hours while she was driven to an emergency veterinary hospital. To their surprise along the way, Demi began visibly breathing and making noises. After intensive care for several days, Demi was released to her foster home, and was adopted by a wonderful family in February 2017.
Northern and remotes communities lack access to veterinary care and education pertaining to their pets. Our spay/neuter clinics aim to help prevent litters of unwanted puppies being born, and as a result, preventing more sad stories like Demi's.
DONATE NOW
Paypal
e-Transfer
Send funds online to info@manitobaunderdogs.org.
REMEMBER to send your name, address and the security question answer.

Mail a Cheque
Email info@manitobaunderdogs.org for address.

Fix It! Manitoba Video