---
Meet the Team
Manitoba Underdogs Rescue is 100% volunteer run! We have an excellent team of passionate individuals who work tirelessly to serve their mission: "Our mission is to rescue, rehabilitate, care for, and ultimately seek out permanent and loving homes for Manitoba's unwanted animals."
Our lovely team photos are courtesy of Sunny S-H Photography.
---
---
Jessica Hansen
---
Executive Director
Jessica is one of the founding members and the Executive Director of Manitoba Underdogs Rescue. As well as overseeing the daily operations of the rescue, Jessica also works with other departments in roles such as; Vetting Manager, Intake Manager, banking, aiding with adoptions, co-running the Facebook page, managing the website, creating graphics, helping with spay and neuter clinics, attending events, and wrangling at the photoshoots. While rescue takes up the majority of her off time, Jessica knows that she is making a difference, maybe not for every dog in the world, but she is for the ones that are lucky enough to be saved. For Jessica, working hands-on in the communities during outreach missions and spay/neuter clinics is definitely one of her favourite parts of working in rescue. Finding a sick or injured dog and then seeing their transformation to happy and healthy, in a loving home provides that drive for Jessica to continue growing Underdogs.
Of course a dog rescuer wouldn't be complete without their own pack of saved dogs! Jessica currently has 4 dogs that she loves unconditionally (and would have talked about for her whole bio if we would have let her). Molly, Treble, Lebowski, and Charlie are Jessica's pride and joy. Whether it's playing with Molly in the backyard, taking Charlie to herding, or taking the labs for a walk, Jessica is the happiest when she is surrounded by her dogs. Changing the outcome of a dogs life provides the sense of purpose that is needed to pursue this dream day in and day out, but Jessica also gets a piece of that drive from the amazing people that she has met through the rescue. Team members, volunteers, adopters, and even sponsors and donors have banded together since the very first rescue, Annie, in 2011 and she is grateful to call many of these individuals her friends today.
---
---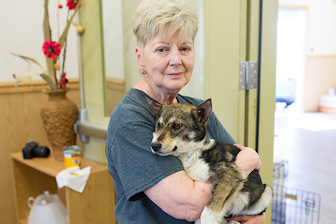 ---
Judi Hargreaves
---
Board of Directors/Treasurer
Judi has been with Manitoba Underdogs for almost 5 years. She first started to foster with the Winnipeg Humane Society as part of her retirement plan but, after a few months, Judi started as a foster "mom" with MUR. Judi soon recognized that she was working with a small but dedicated group of volunteers that were working hard to make a difference. Judi knew she had to get more deeply involved. As MUR grew, they became a registered charity and Judi assumed the role of Treasurer and is now on the Board of Directors.
Judi is lucky to have two MUR "foster fails" as part of her life, Celeste and Asia. Although they drive her crazy sometimes, they are wonderful assistants as they both make new fosters more comfortable in their new home. Judi's favourite part of rescue is providing a safe, loving foster home for dogs that come into MUR's care, and to watch them become happy and healthy again. Easily Judi's second favorite part is to see fosters leave with their forever families, especially when there are children involved. I cry every time I "lose" a foster but I wouldn't have it any other way.
---
---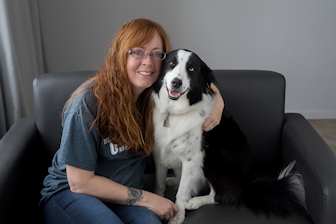 ---
Donna Pearce
---
Board of Directors
Donna started off with Manitoba Underdogs five and a half years ago, right from the very beginning! Underdogs was a pretty small rescue at the time, and Donna had her hands dipped into pretty much every aspect of the functions. There was only one supply house, and that was Donna's. She kept all of the required supplies and took time to distribute them to the fosters. While there are far more supply houses now, Donna has remained on the job, giving up part of her homes space to keep supplies organized for the rescue. Being a supply house is not Donna's only role within MUR. She is also an Adoption Coordinator, serves on the Board of Directors, completes home visits, regularly volunteers at events, fosters, and completes transports as needed.
Throughout her journey with MUR, Donna found and adopted her amazing dog, Storm. Donna's favourite part about volunteering for MUR is getting the opportunity to meet so many wonderful people and dogs along the way. Her roles allow her to connect all parts of the rescue. From bringing in a neglected dog, providing the foster home with the required supplies, and ensuring they find their loving home.

---
---
---
Jacquie Andrusiak
---
Board of Directors
Jacquie began volunteering with Manitoba Underdogs Rescue after foster failing in 2012. As one of the 'originals', Jacquie has been with the rescue since the beginning and has seen the rescue grow in all facets, from the number of dogs saved, to the growth within the foster and volunteer family. During the past five years, Jacquie has attended a vast array of events but the most memorable to her are by far adoptions events as well as spay and neuter clinics. Seeing a dog have a connection with someone who didn't know they were looking for a new best friend is one of the most rewarding feelings, and one that has kept Jacquie volunteering her time.
Currently Jacquie holds many roles within the rescue including; serving on the board of directors, attending events, fostering, and functioning as a supply house. Jacquie's three daughters have taken active roles in helping with their fosters, most importantly making sure that they get lots of play time in! To even out the family life, Jacquie, her husband, and her daughters have three dogs, Skye, Daisy, and Otis. As with many of our staff members, Jacquie is no exception to being part of the foster failure club, two of her three current dogs were foster failures.
---
---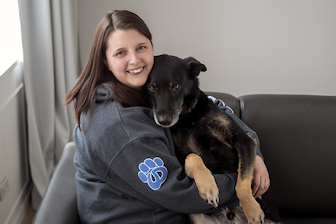 ---
Desiree Klippenstein
---
Board of Directors/Foster Coordinator
Desiree began her journey with Manitoba Underdogs 4 years ago when she started walking foster dogs in care. Fast forward 4 years and Desiree is now the Foster Program Coordinator, serves on the Board of Directors, fosters, and is the Trainer for Underdogs. From her humble beginnings as the foster dog walker, Desiree knew that she wanted to give more of her time to a cause that she believes in so strongly, so she began increasing the events that she attended, and slowly taking on more duties. Working with the foster dogs in care sparked a passion for training within Desiree and from that she formed Animal Instincts Dog Training and Obedience. Earning her CPDT-KA accreditation, Desiree continues to work one on one with foster dogs in care, ensuring that they are leaving to their furever homes as the best canine citizens they can be.
During the growth of Animal Instincts, Desiree knew that loving dogs needed to be her full time job, and so Wooftopia was born. Wooftopia has become the dog training and recreation centre of choice for Underdogs. Many fosters are able to attend daycamp while they are in care, and some are also treated to a spa day while they are there! Easily one of Desiree's favourite parts of Wooftopia is that her dogs routinely are able to come to work with her. Her 3 rescues, Kali, Nanu, Harvey, and her current foster Timber, can often be seen playing with the other dogs at daycare or helping out Mom during an obedience class.
---
---
---
Mychal Nemetchek
---
Assistant Foster Coordinator/Online Adoptables Coordinator
Mychal, together with her partner, Trevor, adopted her very first puppy, Scully, from MUR in 2014. Soon after she began fostering, and adopted her first foster dog, Diesel. Ever since, she has been fostering both dogs and cats, and even adopted an Undercat, Pete, in 2016! Along with fostering, she began to help out here and there at various events, and attended a spay/neuter clinic at the end of 2014. That clinic really opened her eyes to the vast and complex problem that Manitoba Underdogs Rescue and other Manitoba rescues attempt to solve – the huge number of unwanted cats and dogs in our province. This motivated her to become further involved. Mychal has had a hand in a number of roles over the past couple of years, including starting up and helping run the monthly newsletter, doing home visits for potential adopters and fosters, and assisting in some training and assessments for dogs in care. More recently, she has been assisting in coordinating intake of new animals, arranging foster homes, and managing the MUR Facebook page. When Mychal isn't volunteering, she enjoys taking obedience and dog sport classes with her dog, Scully!
---
---
---
Lindsay Gillanders
---
Media Relations Lead
Lindsay's love affair with MUR began in 2014 when she adopted her dog Lucy from the rescue. After realizing that the MUR had truly saved her pup's Life (Lucy was rescued from a northern community before a dog shoot), she knew that she had to do everything that she could to help other dogs in need. Acting as the Media Relations Coordinator, Lindsay works with our friends in the media to connect the extraordinary stories within MUR to our generous donors. It's her goal to make sure that as many people know about our rescue as possible, making the public aware of the atrocities faced by many animals in our province, and giving our pups the chance that they deserve.
When not working with MUR, Lindsay is a marketing and communications professional who is addicted to her job. She loves long walks on the beach. George Clooney, vanilla ice cream, and spends a ridiculous amount of time googling "how do I know if my dog loves me?"
---
---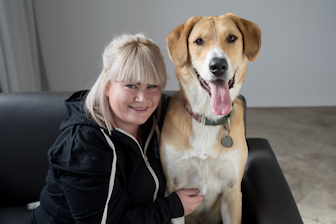 ---
Taryn Warren
---
Adoptions Team Coordinator
Taryn started rather unexpectedly with Manitoba Underdogs in 2015 when she fell in love with her friends foster dog. As luck would have it, he was looking for a new foster home to see him through to his adoption. Taryn didn't know it when she initially signed up to foster that Fievel would fulfill a piece of her heart that had been missing since her sisters dog had passed. Fievel quickly became Taryn's best friend and would be her first foster fail. After adding Fievel to her life, Taryn knew that she wanted to keep giving back to the rescue. She began helping at adoption events, doing supply and dog transports, and completing home visits. Most recently, Taryn accepted an Adoption Coordinator position in which she works at matching adoptables and families based on both of their needs. Although very busy, as an Adoption Coordinator, Taryn was still fostering. In fall of 2016, she was given a chance to foster the sweetest little puppy, and named her Juliet. It was clear from all of her Facebook posts that both Taryn and Fievel were absolutely in love, and Juliet was home to stay. She was quickly adopted as her second foster fail.
While her roles have changed over the years, Taryn admits that fostering is still her favourite portion of volunteering. The late nights filled with tears, kennel training, house breaking, or nursing a dog with parvo are all small trade-offs knowing that she made a difference in a dogs life. A dog that was starving, cold, and potentially on the brink of death was given a second chance because she opened her door, and her heart to them.
---
---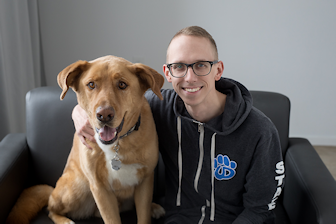 ---
Trevor Kramer
---
Online Adoptables Coordinator
Trevor, together with his partner, Mychal, has adopted both of his dogs, Scully and Diesel, and his cat, Pete, from Manitoba Underdogs Rescue! Shortly after adopting his first dog, he began to foster, and to date he has fostered over twenty animals for MUR. Along with fostering, Trevor helps run the "adoptables" page on the MUR website as well as MUR's Petfinder profile, using his technical skills to put the faces of our adoptable animals up, helping them find their forever homes! Trevor has volunteered for a number of spay/neuter clinics and in various capacities at events. Although he started out as a cat person, Trevor has discovered a love for long daily walks with his dogs (and any fosters), and he and Diesel began doing canicross in 2016!
---
---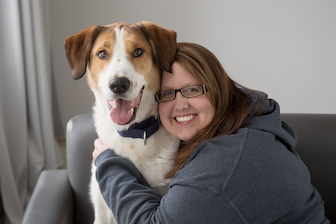 ---
Samantha Aastrom
---
EVENTS/MERCHANDISE COORDINATOR
Samantha began volunteering with Manitoba Underdogs in 2014 by taking in a short term foster. Knowing that she wanted to provide more to the rescue, Samantha started taking on various smaller roles, from transporting supplies and dogs, to attending events. In the fall of 2014 Underdogs decided to do their first calendar and Samantha took on the duties of onboarding locations to sell them, and distributing all the online orders. The calendar has now become a yearly tradition, and Samantha has continued to complete the distribution of the online orders. In 2016 Samantha accepted the position of Merchandise Coordinator, overseeing all merchandise orders that are placed, and keeping a verifiable stock listing available. Just recently, Samantha has also accepted the role of Events Coordinator and has been a major driving force behind getting a fundraising committee off the ground.
Aside from her two main titles, Samantha also enjoys completing home visits for potential adopters and fosters, attending events put on by the rescue, participating in community outreach trips, and volunteering at the spay and neuter clinics. The driving force behind her volunteerism? Knowing that every minute that she volunteers her time, is translated to a moment that a rescued dog gets to live in the warmth, surrounded by love, and with a full stomach. That in itself is worth every moment of the time she puts into helping out such a great organization.
---
---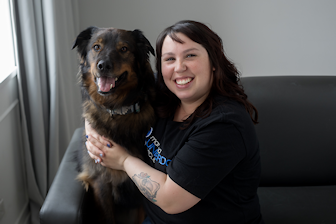 ---
Sarah Smith
---
ASSISTANT VETTING COORDINATOR
Sarah has been with Manitoba Underdogs Rescue for a little over 3 years. Throughout this time she has helped within various roles such as; attending events, fostering, volunteering at spay and neuter clinics, and serving as a supply house. While Sarah continues to do many of these roles, she also contributes to the vetting team, and is the Deworming Coordinator for Underdogs. Aside from the daily duties that Sarah performs, her favourite part of being involved with the rescue is attending spay and neuter clinics. Being able to be a part of working with remote communities to help decrease the stray population is a huge honour to Sarah. Participating in these clinics also allows Sarah to snuggle a lot of puppies, which is one of her greatest joys in life.
Currently Sarah shares her home with 4 amazing dogs, Harley, Otto, Holmes, and Sophie. Holmes was adopted out as a puppy but unfortunately was returned for faults that were not his. Luckily for Sarah, she knew that he was never leaving her house and he's been an amazing part of her pack since. Sophie was an unexpected surprise for Sarah, the intent was always to foster her, but she quickly worked her way into the pack and was foster failed shortly after entering rescue. While the 4 of them don't leave Sarah very much room on the couch, she wouldn't trade any of them for all the room in the world!
---
---
---
Kayla Simpson
---
SPAY/NEUTER COORDINATOR
Kayla currently volunteers the majority of her time with Manitoba Underdogs as the Spay and Neuter Coordinator. This role is multi-faceted, although each phase of the job has the same goal; reduce the overpopulation that exists in our province today. Each dog (or cat) that comes through the care of Manitoba Underdogs is fixed, whether they are in foster care or once they've been adopted. Kayla ensures that every surgery is scheduled, and that it occurs. Part of the initiative of Underdogs is to host low cost spay and neuter clinics in First Nation Communities. Leading up to these clinics, Kayla works on filling all the appointment times by networking within the community and discussing the advantages of having their dogs fixed. The other piece that Kayla works tirelessly on is promoting, and executing the Fix It! initiative. Under this program, owned dogs are brought into the city from communities that Underdogs works with, are fixed, and then returned.
Having been with the rescue for a year and a half, Kayla has also volunteered her time by attending events, doing transports, and fostering. Kayla has been able to take on long term fosters that require more intensive rehabilitation, either behavioural or medical. The ability for Kayla to offer such a dedicated, one on one environment to some of the more challenging cases in care, has allowed those dogs to absolutely flourish and make miraculous transformations.
Kayla's greatest reward for her hard work is knowing that her duties are directly related to decreasing the number of strays, as well as sick and injured animals in Manitoba.
---
---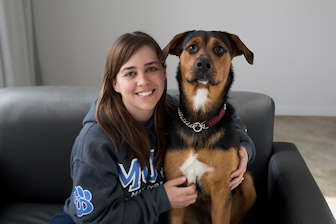 ---
Melissa Smith
---
VACCINATIONS COORDINATOR
Melissa began volunteering with Manitoba Underdogs in 2016 as a foster. As a full time vet tech, Melissa knew that she could offer her every day skills to an organization that she had grown to admire in such a short time. Lucky for MUR, the Vaccination Coordinator position became available, and Melissa was quick to jump on the opportunity. She administers most of the required vaccines to the dogs in foster care, and any outstanding vaccines after they've been adopted. Melissa also continues to foster and has found the perfect fit for her family, their dog Penguin. Melissa thoroughly enjoys volunteering at MUR's spay and neuter clinics. She is considered a large asset at these clinics, due to her experience with every day veterinary care. She assists other volunteers in knowing what signs to look for in a dog waking up from surgery. She often provides surgery discharge instructions to the owners and answers any questions they may have.
Melissa loves seeing the progress in the dogs from one vaccination appointment to the next, and the bond that they have created with their foster families. Seeing them come out of their shells and become more trusting of people really shows all of the hard work and love that the foster family has put into a dog's life.
---
---
---
Jasmyn Monkman
---
SUPPLIES COORDINATOR
Jasmyn got involved with Manitoba Underdogs in 2014 when she fell in love with her sister's foster puppy Pepper, now Kobe. She knew at first sight that Kobe was going to be her best friend. It wasn't long afterwards that Jasmyn wanted to become more involved with the rescue. Jasmyn began to volunteer at events, spay and neuter clinics, and helped watch her sister's fosters. In 2016 Jasmyn decided that she herself wanted to foster, and since then she has fostered upwards of 15 animals. Throughout her journey of fostering, Jasmyn and her husband Zack joined the foster failure group when their hearts were quickly captured by a sweet puppy named Gallup, now Weston. Jasmyn also fosters cats for MUR, and in July of 2016 she came home with a 6 week old kitten. Her husband insisted that they weren't keeping him, but Jasmyn knew that this kitten would win over her husband in no time. They soon realized that Yoshi, now Trouba, seemed to fit into their family perfectly. Jasmyn and her husband knew then that they were foster failing for a second time. Trouba's personality is more like a dog than a cat, which makes him a wonderful friend and play mate for their two dogs.
Fostering just wasn't enough for Jasmyn; she wanted to be a bigger asset to the rescue but wasn't sure what aspect it would be. In October 2016, the Supply Coordinator position opened up and Jasmyn jumped on it right away. Although this role can be quite difficult and time consuming, she is always very proud to share how passionate she is about holding the title of Supplies Coordinator for Manitoba Underdogs.
---
---
---
Sarah Schellenberg
---
NEWSLETTER LEAD
Sarah started volunteering with Underdogs, first as a foster in 2014. Sarah's love for animals stems back to her childhood, attempting to befriend every animal she met. As soon as Sarah was of age to adopt a dog of her own, she did! She has been lucky enough to call her fluffy dog Chuck Norris a best friend for 10 years, and counting! While he may not be from Underdogs, he has gained honorary Underdog status being a calming presence for the many foster dogs Sarah brings home. Sarah had medical experience from working in a Veterinary Hospital as a Veterinary Assistant and so she had been tasked with taking on some fosters who needed ongoing medical care. One of those dogs was a very nervous Min Pin who grew so attached to Chuck, that he became a permanent fixture. Dobby continues to be a source of joy in Sarah's life. Nearly a year after her cat passed away suddenly, Sarah had decided she was ready to foster a cat. Knowing the chances were quite high that cat would be staying. She met Olivia Wilde in June of 2016, and didn't take long to make her an official member of the family.
Sarah has taken on a few different roles within the team and is now writing the monthly newsletter. She still enjoys volunteering at different adoptions events, completing home visits, and most of all, volunteering at spay/neuter clinics. Since Sarah has seen firsthand how a sick, injured or shy dog (or cat) can blossom into a smile inducing companion, she takes great pleasure in helping that become a reality for both human & dog alike.
It was the team that coined Sarah's nickname, "Schells". Her work with MUR has forever changed her life, personally and even professionally. It was a friendship that began with Underdogs that flourished into her professional role as a Dog Daycamp Manager & Dog Training Apprentice at Wooftopia. She has a lot of admiration and respect for the whole team and loves being able to work alongside them. She loves writing the newsletter, volunteering at spay/neuter clinics, going out to network in different at-risk communities, and all the memories that are made along the way. Sarah will forever be grateful to MUR for the support she receives, and for bringing both Dobby & Olivia into her life.